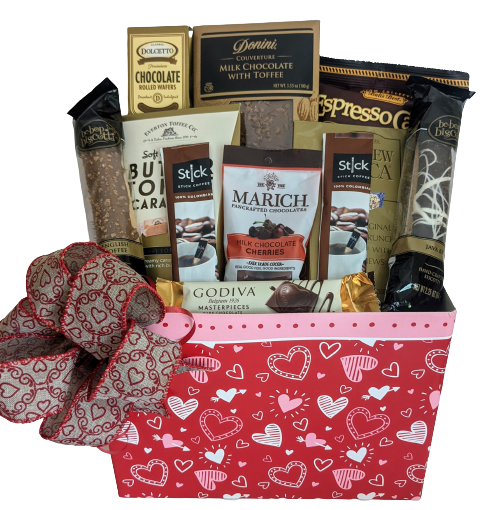 Chocolate Lover's Heart themed Gift Basket - Anniversary, Birthday, Any Special Occasion
Regular price $64.99 Sale
A fun hearts themed basket filled everything chocolate! Espresso candy, butter toffee caramels, biscotti, coffee, milk chocolate cherries, chocolate wafers, milk chocolate toffee and more make this gift a chocolate lover's dream!
A great gift for birthday's, anniversaries, engagements, weddings and for any special occasion to express your love and appreciation.

How does you gift arrive:

We understand the importance of a well presented gift and its ability to build and strengthen your relationships! Every gift is crafted with great care to ensure an impressive and memorable presentation. Buy confidently, your gift is crafted by very experienced hands!
This gift includes:
1 - Bali's Best Espresso Candy - 5.3oz

1 - Marich Milk Chocolate Cherries - 2.3 oz

1 - Godiva Dark Chocolate Bar - 1 oz
1 - Dolcetto Chocolate Wafer Rolls - 0.9 oz
1 - Donini Milk Chocolate Toffee - 3.53 oz
1 - Everton Butter Toffee Caramels - 1.5 oz
1 - Be-Bop Englidh Toffee Biscotti - 2.25 oz
1 - Be-Bop Java Bean Biscotti - 2.25 oz
2 - Stick Coffee 100% Colombian Instant Coffee
1 - Brown and Haley's Cashew Roca - 1.27 oz
Approximate Dimensions : 10.5 "L x 6"W x 14"H
Add a personal message: We are happy to add your message to this gift to make it even more special for the recipient!
Please note: In some rare cases we may need to substitute products in a gift due to unavailability, we always substitute with a higher value product.
We are happy to answer any questions you may have about this product.


Thank You & Happy Gifting!!